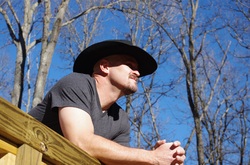 One of my favorite professors in seminary was a baldheaded, salty old sage who smoked a pipe and laughed all the time. In a place where almost everyone was serious, maybe too serious, he was always relaxed and happy. He was so comfortable in his own skin that you couldn't help but feel comfortable around him. Somehow, his peace was stronger than your hell. And, all the students flocked to him. We used words like funny and cool, which were the best we could do to explain the attraction.

To hear his story and the road he had traveled to that point, it made no earthly sense that he ended up anywhere on the peaceful side of town. He grew up, the child of an alcoholic, in a home where he was constantly dodging terror or trying to disappear when he couldn't get away from it. If there was a loving God, he sure never came around his house. He grew into a pleasure seeking agnostic and become a DJ at a popular rock and roll radio station in the seventies. But then Jesus happened to him - he was ambushed by a radical grace that changed everything. And, everything was new.

This loveable old sage taught me lots of things, more through his infectious happiness than by his words - but his words were good, too. Really, good. That's what made him so powerful - his words and life were the same.

I've been thinking a lot lately about a phrase he used to describe his life and what he called his "Mission." He said, "I'm a beggar telling other beggars where to find bread." If he'd said it once, he'd said it a thousand times. And I've thought about it a million times. "I'm a beggar telling other beggars where to find bread."

When I heard him say it the first time, I exhaled like I had been holding my breath without realizing it for years. Regardless of how it looked from the outside and what I had accomplished in life, deep down, I knew I was a beggar. I knew that what I wanted most, what I needed, like the air, was the kind of life and love and peace and contentment that had to be given from above. Mine was not a story of a terrible childhood or a lack of opportunity or anything like that. Somehow I knew that what I wanted most didn't come by DNA or wealth or hard work – it would have to come by grace.

The word beggar comes from the old French and means an impoverished person or one who prays. But, who wants to look needy? For my part, I had spent so much time constructing walls around the deep-down beggar in me that no one would ever guess how much I wanted bread, how much I needed it. I was highly proficient at projecting exactly the opposite of what I felt. What's worse, if you "win" enough, you may even be able to forget about that lonely beggar…but only for so long.

It took a happy, vulnerable old sage with courage enough to speak his truth to break through those high walls that I had constructed and it felt like pure, clean air to me.

The bread that the old sage spoke of was Jesus, of course; the kind of bread that fills the hungering dark in me that nothing else can touch. Now I, too, on my good days, am a beggar telling other beggars where to find bread. And, though I still fall victim to the gospel of starvation more than I'd like to admit – that's when I pursue the bread of accomplishment and achievement that turns to dust in my mouth – I'm happiest when I am at peace as a beggar, a pray-er, and Jesus feeds me with himself.