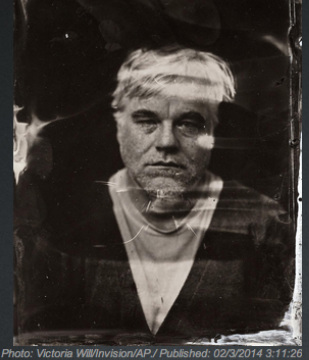 It's a haunting image of Philip Seymour Hoffman taken in black and white on crinkled paper that looks as if it had been wadded up, thrown away and then retrieved. It is one of the last images taken before his death. Why I am so struck by the picture is hard to say. His face emerges from the darkness, the disheveled dirty blond hair suggest a struggle; a thick face shrouded in days of whiskers reveal that the fight had been long. His eyes, heavy with sadness, suggest that the battle had already been lost, along with all hope.
Within two weeks of that picture being taken, the dragon of despair would claim yet another artist who sought, at all costs, to tell the truth.
I wasn't always aware of Hoffman's uncanny ability to incarnate the deep parts of the human soul with such disconcerting accuracy. Perhaps it was his unique humanizing of the narcissistic author in the self-titled film
Capote
that first captured my attention. I don't remember much of him before that movie, except that he was Robin Williams' tightly wound medical school roommate in
Patch Adams
, a character he delivered so well I was convinced that that was his true-to-life personality.
It was his role as Fr. Brendan Flynn in
Doubt
that caused me to look at him with a new degree of artistic reverence. Even as I watched his character try to spin perception and control circumstances to conceal his own darkness, I wondered how Hoffman understood so well the terror and turmoil, the anxiety and cunning of a whiskey priest on the run from his own soul.
Since that one cinematic experience, I've watched Hoffman's character portrayals with an ominous sense knowing that I would see something of myself, which I would prefer to remain hidden.
Film critic David Edelstein offered the following observations:
"99% of actors fight to come off
more
, not
less
likable. That's their vanity. Hoffman's vanity was a kind of anti-vanity. He homed in on the grotesque: he thought you'd have more empathy for people who were reprehensible because down deep, he said, we all know how flawed we are.
My guess is he was pretty hard on himself. Perhaps that made him a good candidate for addiction -- and the dragon that would deliver oblivion. Perhaps. Now we curse that dragon, but give thanks that for so long Philip Seymour Hoffman used his demons to help us see with such incredible vividness our own."
There have been others who share Hoffman's artistic courage as well as the crippling despair that often seems to accompany it. I wrote about a group known as
The 27 Club
on the occasion of Amy Winehouse's premature and heartbreaking death a few years ago.
And, as at the passing of Winehouse and now with the passing of Philip Seymour Hoffman, I am reminded that the courage to confront the killing darkness that lies half-hidden in our own lives comes from friendship with the One for whom the darkness as is noonday light. There has only ever been One who dove through the hell of darkness He didn't deserve so that the same darkness that threatens our very souls would be rendered powerless.
"The Light (Jesus) shines into the darkness, and the darkness could not overcome it." John 1:5
[Read more about The 27 Club]